In order to achieve its aims, the project has been structured around five strategic goals and one management goal, arranged as Work Packages
Banana Breeding
Pipeline
Work Package 1
Pest and Disease Control
Work Package 2
Leveraging the genetics of traits in banana breeding
Work Package 3
Empowering End-User Evaluation
Work Package 4
Harnessing Data
Work Package5
Work Package 1: Banana Breeding Pipeline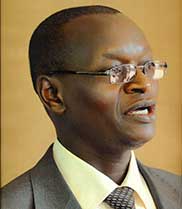 Jerome Kubiriba
Leader
Banana Breeder
NARO, Kampala, Uganda
Bananas are difficult to breed because of its complex genetics, low genetic variability, polyploidy and the low levels of female and/or male fertility in most widely-grown triploid clones. Past efforts to develop East African Highland Banana (EAHB: Matooke) hybrids by the National Agricultural Research Organization (NARO) of Uganda in collaboration with IITA has led to the development of 27 EAHB hybrids called NARITAs. It took 18 years to generate these hybrids, and they present a significant progression from pre-existing cultivars.
Here we aim at improving the efficiency of this banana breeding pipeline and increasing the rate of delivering improved EAHB and another group of Highland Bananas, Mchare, with increased levels of pest and disease resistance, higher yields and better consumer acceptability. This involves widening the profile of female fertile parents through in-depth floral development studies at two locations with different agro-ecological conditions in Uganda and Tanzania, and under glasshouse conditions at KU Leuven, Belgium. The key factors limiting seed set in female fertile and sterile Matooke and Mchare varieties are being determined. Manipulation of the pollination techniques to improve fertilization efficiency and overcome fertilization impediments of Matooke and Mchare crosses are being explored. We are improving the male parent profiles through crossing the diploids within the NARO/IITA breeding programs. Improved diploids, imported from breeding programs in Brazil (EMBRAPA) and India (NRCB), are also being evaluated for novel traits, such as male fertility (by quantifying their pollen) and seed set. Targeted crosses between improved diploids and female fertile parents are leading to increased rates of production of hybrids with multiple desired traits. Consequently, thousands of Matooke and Mchare hybrids are being generated and evaluated for selection.
EMBRAPA, Brazil
IITA, Tanzania, Uganda
University of Malaya, Malaysia
KU Leuven, Belgium
NARO, Uganda
Work Package 2: Pest and Disease Control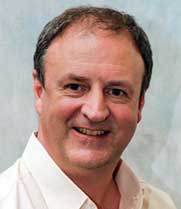 Prof. Altus Viljoen
Leader
Stellenbosch University, South Africa
Due to its clonal nature, banana is amongst the most disease and pest vulnerable of all agricultural crops. Plant resistance is the best means to control diseases and pests of banana, especially for smallholder farmers. The importance of Fusarium wilt (Fusarium oxysporum f. sp. cubense), Sigatoka diseases (Mycosphaerella musicola and M. fijiensis), nematodes (Radopholus similis, Helicotylenchus multicinctus, Meloidogyne spp., Pratylenchus coffeae and Pratylenchus goodeyi.) and weevils (Cosmopolitus sordidus) at two breeding stations and five regional testing sites in Tanzania and Uganda are being determined by the collection, identification, and storage at Stellenbosch University and NARO and geographical mapping of the pathogens and pests. Molecular markers for rapid and accurate identification of Fusarium wilt and Sigatoka disease pathogens and methodologies to determine their fitness are being developed. EAHB and Mchare, as well as NARITA hybrids, are being screened for resistance to Fusarium wilt, Sigatoka diseases, nematodes and weevils in regional field evaluations in Tanzania (Arusha, Kagera, Mbeya) and in Uganda (Mbarara, Kawanda). To accelerate the breeding process, small plant screening and in vitro methods are being developed for Fusarium wilt, Mycosphaerella spp., nematodes and weevils. Results obtained with screening experiments will then be compared to those obtained during field screening. During the course of the project, laboratory and field staff will be trained in surveillance, resistance screening and pathogen/pest identification. The outcome is to significantly increase yields in Matooke and Mchare bananas through resistance to important diseases and pests
ARI-Horti Tengeru, ARI_Maruku, ARI-Uyole/Mbeya, Tanzania
IITA, Tanzania, Uganda; NARO, Uganda
Stellenbosch University, South Africa
Work Package 3: Leveraging the genetics of traits in banana breeding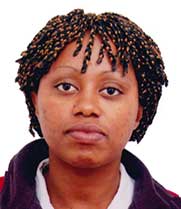 Dr. Brigitte Uwimana
Leader
Molecular Banana Breeder
IITA, Uganda
Understanding the genetics of key traits is crucial to accelerate progress in breeding. We use genetic and genomic tools to develop molecular markers or predictive models for early selection in banana breeding. Quantitative Trait Loci (QTL) linkage analysis and the development of predictive models for genomic selection are the two central approaches we are employing towards improving the breeding process. Diploid mapping populations, derived from crossing diploid banana accessions, are used for QTL analysis for pest and disease resistance. So far three mapping populations are being used to study the genetics of banana resistance to Fusarium oxysporum f. sp. race 1 and sub-race 4. Another population is being studied for banana resistance to weevils (Cosmopolites sordidus) and nematodes (Radopholus similis). Six more populations are being evaluated for segregation for other traits, including agronomic traits. The predictive models are being developed for yield-related traits. The training population is comprised of the breeding material and their progeny from NARO and IITA banana breeding programs; hence it is made of diploid, triploid and tetraploid banana genotypes.
EMBRAPA, Brazil
IITA, Tanzania, Uganda
NARO, Uganda
SLU, Sweden
Stellenbosch University, South Africa
University of Malaya, Malaysia
Queensland University, Australia
Work Package 4: Empowering End-User Evaluation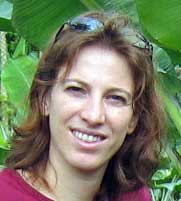 Dr. Inge Van den Bergh
Leader
Bioversity International,
Belgium
Using a multi-location participatory varietal selection (PVS) approach we evaluate 27 promising EAHB hybrids, called NARITAs. Regional testing of the hybrids using multi-location field trials in the range of expected end-user environments provide for an ideal experimental design to understand how site conditions interact to affect the performance and adoption potential of each hybrid. Working in close collaboration with farmers in Tanzania and Uganda allows the quantification of the suitability of each cultivar to local farming conditions, while sensory evaluations with consumers provide feedback on taste and other organoleptic features, as well as processing potential. Two types of trials will be run consecutively: initially, the team will conduct on-station trials to gain accurate data on cultivar performance (mother trials); these will be followed by on-farm trials to facilitate access to and testing of the new material by the target end-users (baby trials). Besides generating data on these 27 EAHB hybrids, we will provide valuable feedback to the NARO-IITA breeding program on key criteria that farmers and consumers use for adoption or rejection of new cultivars, to guide breeding investments. In addition, standardized protocols and tools for evaluation and data sharing are being developed. It is expected that the multi-location PVS approach will provide an efficient mechanism for the evaluation of the new EAHB hybrids, lead to higher and faster adoption of the new hybrids, and thus maximize the impact of these new hybrids.
ARI-Horti Tengeru, ARI_Maruku, ARI-Uyole/Mbeya, Tanzania
Bioversity International, Belgium, Tanzania
Clark University, USA
IITA, Tanzania, Uganda
KU Leuven, Belgium
NARO, Uganda
Work Package 5: Harnessing Data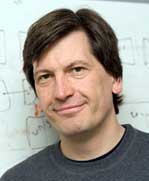 Lukas Mueller
Leader
Boyce Thompson Institute,
USA
We aim to drive improved efficiency of breeding systems and enhanced synergy in national, regional and global partnerships through an open-source database and tool box for banana breeders and researchers. The musabase website has been established and accession and trial data is being loaded into the database by the breeding partners.
BTI, USA
IITA, Kenya, Tanzania, Uganda
NRCB, India
EMBRAPA, Brazil